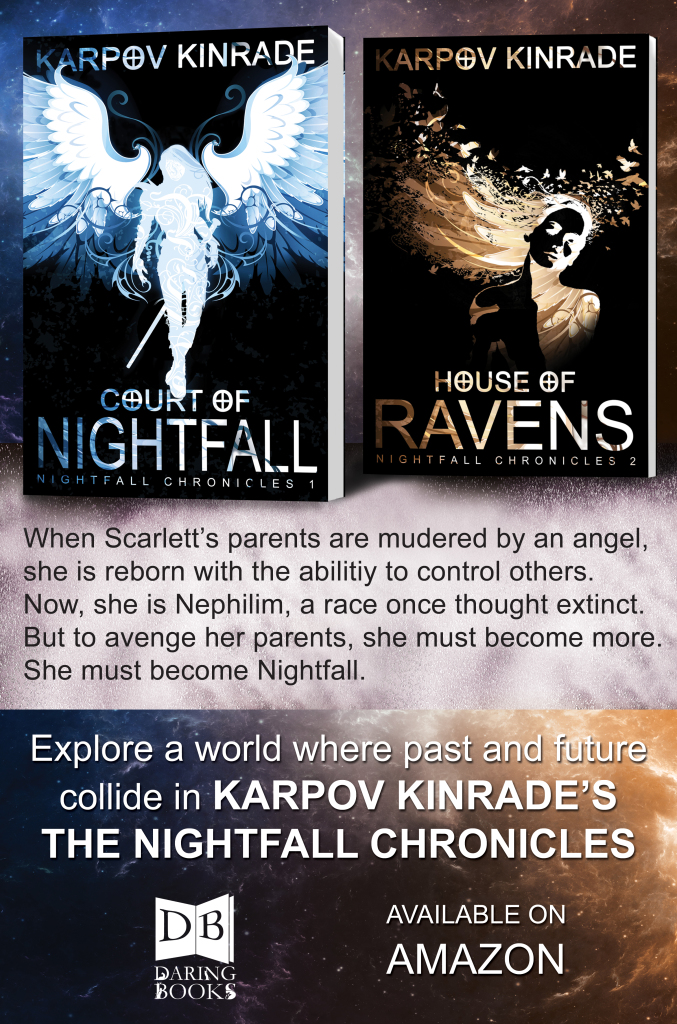 USA TODAY bestselling author Karpov Kinrade defied genre convention with
Court of Nightfall
. Now, they continue the epic saga of Scarlett Night, a rebel torn between two identities, in
House of Ravens
. If you're a fan of fantasy, urban fantasy, superheroes or just love a great story filled with action, adventure, love, betrayal, friendship, secrets and lies, then you'll enjoy The Nightfall Chronicles.
HOUSE OF RAVENS (Book 2, The Nightfall Chronicles)
You think you know the path to victory? Then tell me how you'll win. Will you buy triumph with gold and favors? Will you marshal armies and trade in blood? Or will you be the hand in the dark, your fingers on the strings? Whatever you decide, know this. If you put the innocent at risk... You will answer to me. I am the keeper of secrets and the teller of lies. I am the shadow of death and the bringer of light. I will become a Knight of the First. And the Orders will crumble.
Get House of Ravens now!
If you haven't read the first book in the series,
Court of Nightfall
,
start the epic saga here.
It's on sale for just 99cents for a limited time, so grab it now! ***Join Karpov Kinrade on
Facebook
and sign up for
their newsletter
to receive exclusive giveaways and more exciting books*** Happy reading!
My Review:
Karpov Kinrade has DONE IT AGAIN! Book 1 was amazing and now with House of Raven, we delve deeper into the dark world of wrong and right/light and dark/good and bad/ friend and foe. You never know who to trust, even when it is yourself. Can you be two people at the same time without losing a piece of yourself? Scarlett Night fights this very real battle in House of Ravens and along the way, meets her ultimate match. I am so in love with this series. It keeps me guessing at every turn. I love love love the characters. The world that this author has created is a mixture of past and present, mid-evil and modern, it is so amazing to be in this world of NightFall!!!