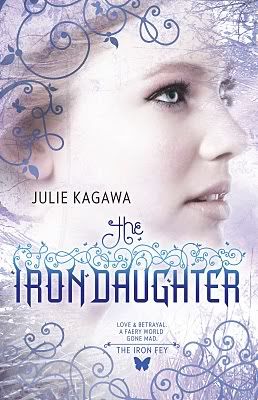 The Iron Daughter by Julie Kagawa
Release Date:
August 1, 2010


Publisher:

Harlequin Teen


Genre:

YA Fantasy



The Story:

After defeating the Iron King, and living up to her end of the bargain, Meghan finds herself Tir Na Nog, the land of the Winter Fey. Even worse, the one person she thought she could count on has deserted her. And she cannot access the Fey powers she used to help her defeat the Iron King.
And on top of all that, no one believes her about the Iron Fey. And the only person who can back her up, Ash, is the one not talking to her.
During the Exchange of the Scepter of Seasons, the Iron Fey steal the scepter, leaving one of the Winter Fey royalty dead. Meghan is blamed for the death, and the Summer Fey for stealing the scepter. Meghan has to find a way to get the scepter back to the Winter Fey before a war breaks out between Winter and Summer.



My Review:

Although I didn't like this book as much as the first one, I did like it. There were some parts though that I could have done without. There were actually some parts that were very Twilighty: a love triangle - "I love him but not as much as I love you, and I don't know what I am going to do" type of triangle. As much as I like a good love triangle, I think that it is starting to be a little bit over done when it comes to YA books. Fortunately, Meghan is able to make up her mind, and, IMO, makes the right decision at the end (but that is because I am a bit biased as to her choice, LOL).
I am also just a bit annoyed with the character of Grimalkin. He comes and goes, appears and disappears. Which I guess is a good thing, since he always appears when most needed, but for once I would just like to see him follow through with something rather than set up a plan, and then leave everyone to their own devices.
There were also some parts that flowed a bit slow for me.
In all, this was a good follow up book. And I am really looking forward to The Iron Queen.